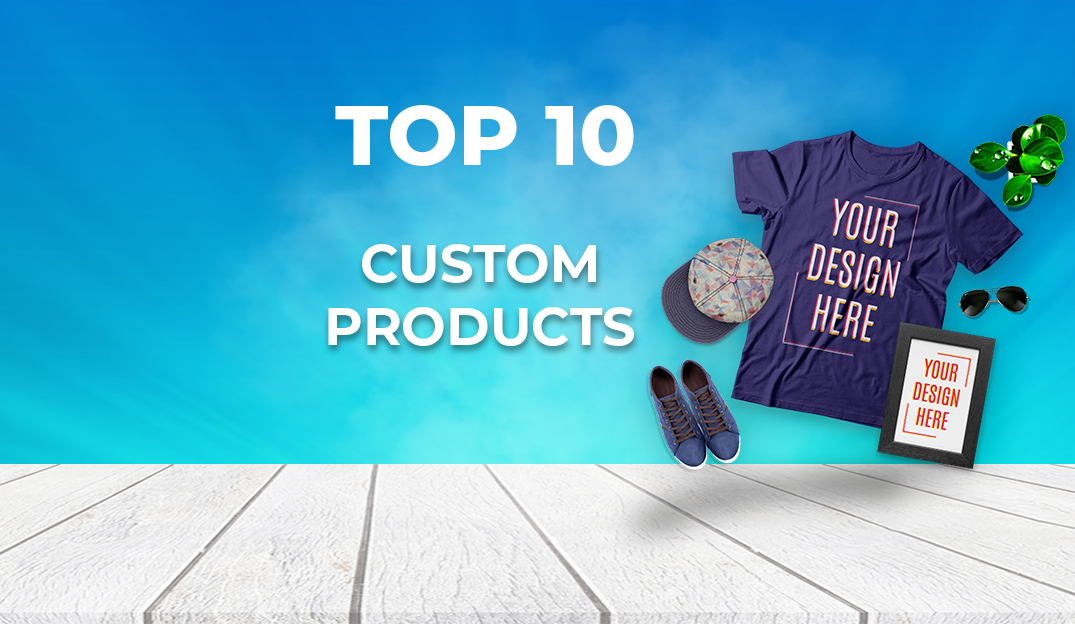 Top 10 Trending Custom Products to Sell
If you are an online seller, you can know how hard it is to attract and persuade your customers to buy your products. With that said, there are probably hundreds of other products that other vendors might be selling what you are selling. It is why to succeed in the competitive market, you need to sell high-demand products.
But how can you do it, you might be wondering? The answer is to be creative. And by creative, we mean you should sell custom-made products instead of off-the-shelf ones. Today, we will discuss some of the top products you can sell and bolster your revenue.
Top 10 trending custom products to sell
Below-specified are the top 10 trending custom products you can sell in 2022.
1.     Customized clothing
One of the most custom products you can sell this year is customized clothing items. Clothes are an integral part of everyone's life, and people love to buy clothes that can make them look good and stand out in the crowd.
Fashion is expanding rapidly, which has caused the clothing industry to bloom. In 2020, 29.5% of sales came from clothing out of all the other fashion items.
There are numerous custom clothing items that you can sell. These include:
T-shirts. You can make customized shirts by printing numerous designs on them. You can also give buyers the option to tell you what pattern they would like on their t-shirts.
Hoodies. You can also sell customized hoodies. Hoodies are one of the best clothing items, loved by both men and women. You can sell organic hoodies, or you can sell custom-name-printed hoodies.
Swimwear. People love swimming and going to the beach, which is why swimwear is a great option. You can sell plus-size swimwear, as only limited vendors sell body-specific custom swimwear.
Sportswear. Sportswear has gained a wide range of popularity in the past few years. You can sell custom-made sportswear by giving numerous options to your buyers about how they can design their sportswear and how the fitting should be.
You can also create different sweatsuits, tracksuits, or matching sportswear sets. The sportswear industry is enormous and is growing day by day. According to stats, it has the potential to reach $550 billion in 2028. So, selling customized products in this niche is a for sure win.
2.     Custom made fashion accessories
As specified, the fashion industry is vast and expanding rapidly, people are buying different kinds of fashion accessories. You can benefit from this opportunity by selling customized fashion accessories. Some customized fashion accessories that you can sell are:
Hats – Hats are an essential fashion accessory for some people. Hats can perfectly blend with any outfit and are versatile. You can customize hats by embossing different designs, images, and texts, including your buyers' names.
Shoes – One thing that you cannot go wrong with is shoes. The industry has a market size of $365 billion, which is huge! You can sell patterned designed shoes or shoes that flat-footed people can wear.
Jewelry – You can sell engraved rings, necklaces, pendants, and bracelets. You can also offer custom-made embossed jewelry.
3.     Phone cases
Another great thing you can sell is customized phone cases. People love their smartphones and like to make them cool by buying different phone cases. You can create custom phone covers using different skins, patterns, 3D images, and designs.
If possible, you can integrate a design tool on your website where people can design their phone covers and order them for you.
4.     Mugs
People love their mugs, and therefore, many people have a favorite mug. You can provide your buyers the option to customize their mugs, just the way you want. In addition, you can also sell mugs having inspirational quotes on them that would attract numerous people.
5.     Water bottles
Plastic and stainless water bottles have become quite popular in the past few years. People carry their water bottles to the gym, school, colleges, and workplaces. The water bottle industry is expected to reach $11.51 billion by the end 0f 2028. In 2020, the market size of the industry was $8.38 billion.
You can sell custom water bottles having different logos, patterns, and designs to attract numerous customers. If your audience is a gym fanatic, you can customize it according to that. For example, you can print dumbbell pictures on a water bottle and sell it.
6.     Wall art
People love decorating their homes, and it is why they are always looking for the best home décor items. Presently, wall arts have become quite a trend amongst numerous people that love decorations. With wall arts, you can create and sell whatever design you like, and customize it to fit any occasion.
Before selling customized wall arts, make sure to identify your target audience as by knowing them, you can customize wall arts just as they want.
7.     Neon signs
Neon signs, as the name suggests are signs are fluorescent signs that use Neon to glow. With that said, neon signs are highly customizable and look aesthetically pleasing. Today, these signs are used by numerous bars, cafes, restaurants, and more.
You can sell energy-efficient neon signs and give buyers the options to make their own neon sign by entering their desired text, font size, and color on your website.
8.     Tote bags
Tote bags are shopping bags, which are made from a cloth-type material. Women love tote bags. You can sell custom tote bags by making them with eco-friendly and biodegradable materials. You can also provide buyers the options to design their own tote bags.
9.     Wooden engraved gifts
People love sending gifts to their loved ones and are looking for some of the most creative gift ideas. One of the creative gift ideas is wooden engraved gifts. You can sell custom-designed wooden engraved gifts to attract more audiences. You can customize wooden engraved gifts by engraving names, dates, and designs as your customers want.
10.  Notebooks
You can also sell custom-designed notebooks with motivational quotes. Amidst the pandemic work from home, culture has bolstered the stationary market. Hence, selling customized notebooks according to your customer's preferences can make you stand out from your competitors.
You can also make your custom-made notebooks' paper quality good to increase the number of online buyers.
It is a comprehensive guide about the top 10 trending custom products you can sell in 2022.